GPJ-M5/JF 3In3Out Dome Fiber Optic Splice Closure
Dome 96Core Fiber Optic Splice Closure, 12-96Core Dome Optical Joint Cable
GPJM5-JF type of Fiber Optic Splice Closure (FOSC) is a member of dome closure series, the product adopts fully-mechanical sealing structure, only using silicone rubber sealing gasket to ensure the good sealing performance of fiber cable with the diameter within 13mm. The function of the product is in the optical transmission link, to provide through, branching connection and related connecting protection; IP safety rate is IP68; he sealing method adopts screw pressure; This model is suitable for different methods of branch connection, including branching of uncut cable. It could be used for aerial, pole-mounting, wall-mounting and underground application. The model is excellent in sealing performance, easy for installation, wide application and is prior choice of fiber connection equipment.
Feature:
1.    Adopt modified PP material with high strength and anti-corrosion to make the closure have a longer lifetime and excellent sealing performance.
2.    It applies to PLC splitter with Max ratio 2:32 or 2*2:16.
3.    This model has four small round ports and one large round port.
4.    The Max quantity of SC adaptor is 36pcs. (Other types of adaptor could be customized).
5.    The sealing component is made from vulcanized rubber.
6.    The sealing method adopts screw pressure, sealing performance is excellent, convenient to re-open, especially suitable for optical splitter used.
7.    It could be installed 36pcs SC/PC Pigtails of 1.5
8.    There are various sealing accessories of soft cable to be chosen
Other Similar Items: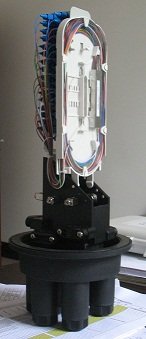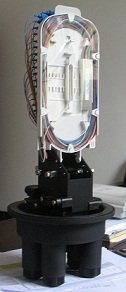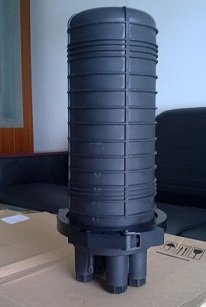 GJS-M5/JF-LC32      GJS-M5/JF-SC16    GJS-M5/JF-144